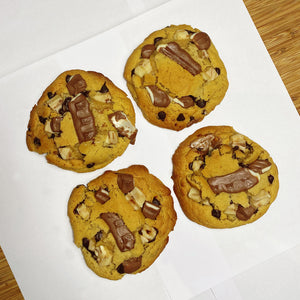 Kinder Fudge Cookies
The Jack's Bakery take on the New York Style Cookies.. Fudge cookies! Each cookie weighs 170g and is a mix of soft chocolate chip cookie with a sweet fudge middle. The Kinder fudge cookie is packed with chocolate chips and chunks of Kinder fudge & Kinder chocolate. In this pack you will receive 4 cookies.
Allergens: WHEAT, SOYA, EGG, MILK, BUTTER
Ingredients used may contain traces of nuts & peanuts
DELIVERY: Everything is dispatched out Royal Mail 1st class delivery and I aim to get your order out to you within 3-4 working days from the date you place your order.